England's Tallest Mountain
Scafell Pike, 978 metres, is not only England's highest mountain but arguably one of the most stunning because of its remote location and breathtaking views. Thousands of people enjoy Scafell Pike each year but the climb to the top should not be underestimated.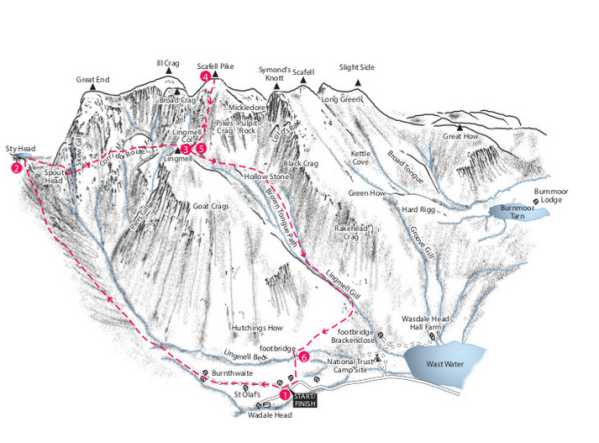 What's it like?
Climbing Scafell Pike is a serious undertaking and should not be underestimated. Whichever route you take, it's a tough, steep hike which involves scrambling over hard terrain. Planning and preparation are key whatever the season - there could be high winds, rain, snow, extreme cold or poor visibility. So, check the mountain forecast, have the right clothing and equipment and know how to use it.
It's not only England's highest mountain but also our highest war memorial, given to the National Trust in memory of those who died in WW1 so that people would have the freedom to enjoy the mountains.
Where should I park?
Follow the signs and park at Lake Head, a pay and display car park, grid reference NY 182 074. National Trust members park for free. If possible, please lift share - the valley road is very narrow.
What facilities are available?
There are temporary toilet facilities at Lake Head car park and also at Wasdale Head Village Green, but these are very basic. While we make every effort to maintain these, heavy overnight use causes problems, and sometimes the toilets are not as clean as we'd like them to be. The last public toilets are at the car park in Gosforth and in Eskdale Green (seasonal) and it may be worth scheduling a stop to use the facilities before driving down to Wasdale Head.
We are currently planning to improve our visitor facilities. Installing permanent toilets in this highly sensitive location is complex and costly, so please bear with us as we go through our rigorous planning and fundraising process.
Can I take my dog?
Well-behaved dogs are welcome and many will enjoy a long day out climbing Scafell Pike as much as their humans. It's likely to be a long and tiring day across rocky terrain so climbing Scafell Pike is particularly suitable for dogs used to long walks in the fells. If your dogs is not used to the fells then it is perhaps worth trying a few lower, introductory fells before trying Scafell Pike. Please follow local and seasonal guidance; and where livestock are grazing please keep dogs on leads. For safety please keep your dog on the lead in the car parks.